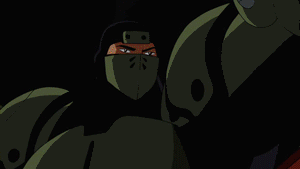 We all know in the majority of all storytelling, there are protagonists (whom are typically the archetypal heroes and focal characters of the story), and the antagonists (whom are usually the 'villains' or main opposition to the protagonists). Both are prevalent and are usually included in most story genres, including movies. At time however, those typical archetypal roles, can be blurred and not as clear as to whom the 'hero' or 'villain' is. This is epically true with more complex storylines and the likeness of the characters within genres of storytelling, movies, being no exception. Some do not carry the typical morals of the atypical hero. Some are deeply flawed in personality or by interaction. Some do not always take the moral high road, yet might pick certain heroic traits here and there (though not all of them). As you're probably aware by now, this it what we refer to as Anti-heroes.
So, what about these anti-heroes? Are they the arch nemesis of the archetypal –type hero, or something else? Well according to the dictionary, an antihero is "generally considered to be a protagonist whose character is at least in some regards conspicuously contrary to that of the archetypal hero, and is in some instances its antithesis." In comparison to the villain, the definition goes on to state: "Some consider the word's meaning to be sufficiently broad as to additionally encompass the antagonist who (in contrast to the archetypal villain) elicits considerable sympathy or admiration." So in a nutshell, is the proposed "hero" with deeply conflicting un-heroic flaws about themselves, or the "bad boy" with questionable redeeming qualities, but with with a heart of gold. By the way these types are not limited to just male characters, case in point the "bad girls".

So why is this particular topic? Well, I have always had a fascination of these flawed characters, whether on the big screen, on television, novels, or on my PC, the antihero to me at least, show a more realistic point of view of the conflictions and hard decisions that people in general make on a everyday basis. I know that sounds sort of off, but let me break it down a bit. Remember just a few years back, when they announced they were going to do a new live action Superman movie, but after its premiere, the reviews were slightly less than the usual expectations of the every growing popularity of comic adapted movies? There were several online and live discussions about that very topic (yeah there are that many "geeks/fanboy-girls" out there, just go to any fan convention).

What was concluded in those discussions, other than the fact that the movie itself was tad too lack luster especially compared to other comic based movies at the time (like Batman Begins, and The Dark Knight), many could not not identify with the character of Superman, mainly because of his near invincibly, is super strength, and overall super-ness. Even as Clark Kent, many had a harder time accepting him as the fumbling mild mannered (yet oddly large and buffed) reporter in disguise. Compare this to the Bruce Wayne/Batman character of the previously mentioned movies. Batman had a traumatic event happen to him (witnessing the murder of his parents) fairly early in life that ultimately personified what he would become later on as an adult, crime fighter, and overall hero..or anti-hero since his approach to making the world a better place might have some similarities to his friend Clark, there are vast differences as well, differences that are very contrast to the archetypal hero, and more in league with the antihero type. Going back to the movie comparison, many seem to prefer and related more to how Bruce/Batman was portrayed in the movies due to the development of his character. Interesting that many would be more interested in someone that looks and in some ways acts more like a villain toward his adversaries (yet is not one). Whether they are dealing with personal issues while being who they are, makes their characters that more interesting. More people can relate to them because they seem more down to earth or more realistic to those who are familiar to them, and even to those (like my cousin remember?) that do not.

I think what fascinates me most about these characters is, that despite the problems, issues, and character flaws these anti-heroes have, for the most part, they do still hold on to the qualities that make them heroes, at least in the general sense. Some good examples of some of my favorites would include;

Blade, of Marvel comics and movies,
Campion
, of the novel, movie and TV series Watership Down,
John Shaft
of the Shaft movie series,
Zuko
of the animated series Avatar, The Last Airbender,
Logan/Wolverine
of Marvel comics TV series and movies etc,
Afro
, of the anime movie series Afro Samurai,
Richard B. Riddick
from the movies, Pitch Black and The Chronicles of Riddick,
Han Solo
from the Original Star Wars trilogy,
Mugen
from the anime series Samurai Champloo,
Rorschach
from the graphic novel and movie Watchmen,
Spawn
from the comic and animation series,
"L"
of the anime series Deathnote,
Bruce Wayne/Batman
of DC comics,TV series and movies.
These are just to name a few which I recommend to check out to get a better idea of what entails my idea of a anti-hero. Whether you agree or disagree with their characterizations of their role(s), you have to admit there is something unique about them that would not be the same in any form of storytelling.
Er, by the way, with all this talk about heroes, anti-heroes and such, does raise one nagging question, is there a distinct line where a archetypal hero or even an anti-hero might cross and become a full fledged villain? Does even that line even exist? And what would make a good or a moderately good character, go bad? Well rather than extending this already too long blog, I think I shall address this in a separate post. (Stay tuned for that one). In the meantime, I welcome all opinions and feedback.